Facebook
Testimonials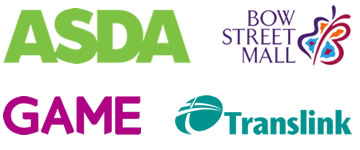 Feedback and comments from some of our current CityWatch members.
Read More
Latest News
News Archive

RADIO LINK & CCTV:
Radiolink is a comprehensive retail radio package with a two-way radio system that links all participating businesses in Lisburn to each other, and via the CCTV Monitoring Room to the PSNI. The integrated CCTV system also enables tracking across the City using the CCTV Monitoring Room. Staff actively monitor known criminals as well as being alerted to criminal activity or suspected offenders by Radiolink members and when appropriate they can directly alert police to deal with the situation. The system is owned, operated and managed by Citywatch CCTV Northern Ireland Ltd.

RAC NI:

Retailers Against Crime Nl (RACNI), is a UK wide scheme and over the past number of years has built an extensive database on active suspects and known criminals operating in Northern lreland. RACNI members in conjunction with local police share photographic details to members on suspects and known criminals at regular briefing meetings. This scheme also provides information on the latest techniques and scams being used by criminals as well as advice and training on how to reduce or prevent crime from taking place in your business.
POLICE

The PSNI have a designated crime prevention officer to work directly with the retail and business community to give advice on shoplifting methods and business security.